GRAHAM — The routine ring of a bell sends students to buses and math teacher Richard Miller to his car. Once his wheels roll past the middle school's grounds, Miller pulls over to unpack his trunk. Within moments, his 9-millimeter handgun is comfortably concealed by his waist.
On most days, the 57-year-old drives east toward Academy Sports + Outdoors, a sporting goods discount store chain, where he works part-time at the gun counter. The firearms most commonly bought by Miller's day-to-day customers are concealable semi-automatic handguns.
When not explaining algebra to his students, or selling bullets to his regulars, Miller is training locals how to conceal and carry handguns.
As of 2018 there were more than 17.25 million active concealed handgun carry permits in the U.S., according to an annual reportfrom the Crime Prevention and Research Center — a 273% increase from 2007.
North Carolina is a concealed carry and shall-issue state, which means that while a license is required for a resident to conceal carry a handgun, the individual does not need to demonstrate "good cause" to carry the weapon.
The North Carolina State Bureau of Investigation records the number of active permits in the state. For more than two decades that number has grown from fewer than 22,000 in 1997 to more than 654,000 this October.
Every North Carolina county has shown an increase in permits in the last decade.
Life, laws and liberals
In the six years Miller has been a gun owner, he's acquired six guns — a rifle, a shotgun, a revolver and three pistols. But as a man who wants to "try them all," Miller says it's still "not enough."
The self-proclaimed born-again Christian and part-time concealed carry instructor, who doesn't conceal the wooden cross resting on his sternum, is praying for an Armalite rifle this Christmas.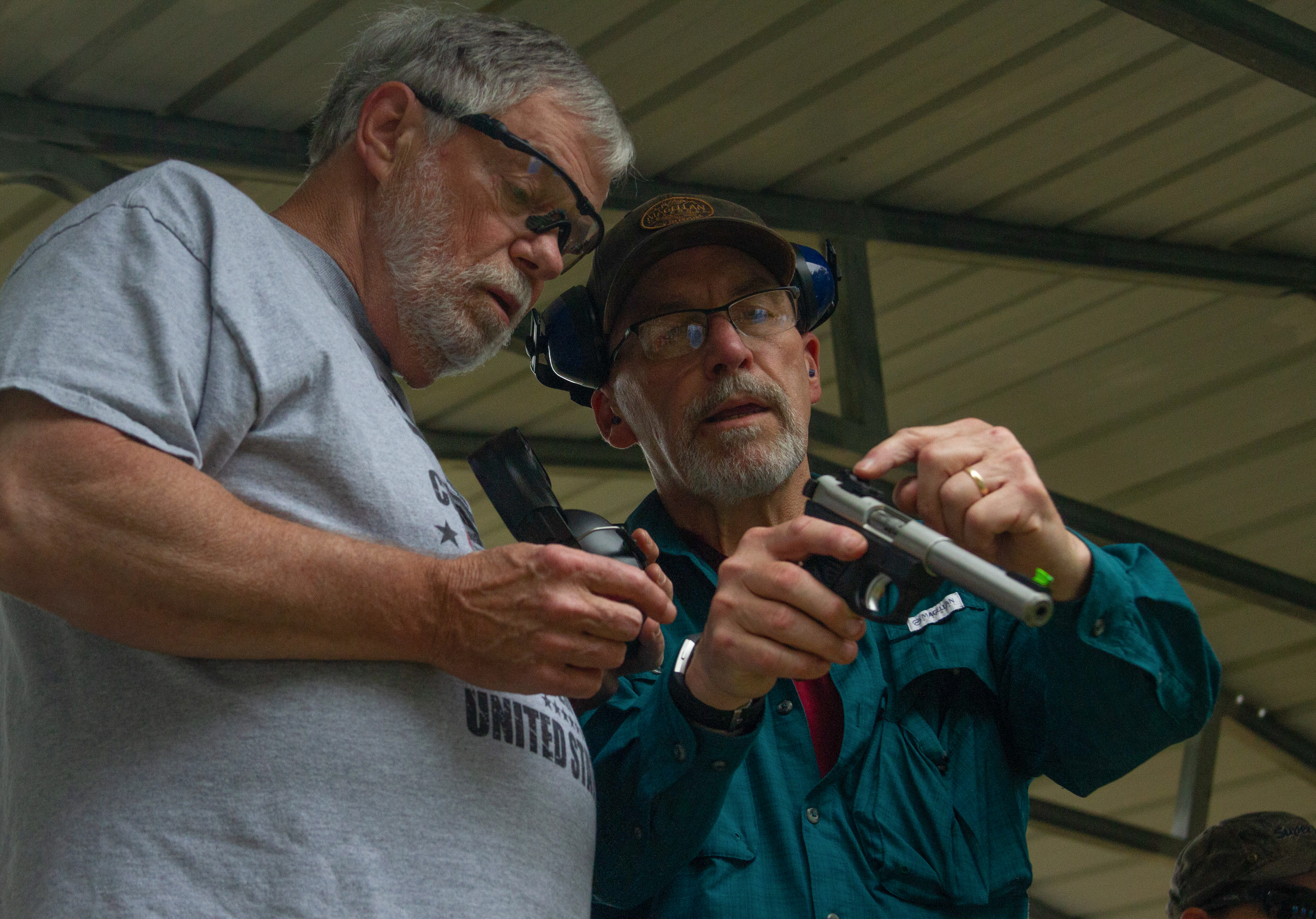 Richard Miller shows Alamance resident Tom Shanklin how to use the sight on a handgun during a concealed carry class on Sept. 14, 2019. Photo by Anton L. Delgado | Elon News Network.
"I didn't know anything about firearms. I didn't know anything about ammunition. I didn't know anything about different calibers. So, I just started researching and learning more about it and then I realized that there were other firearms out there I wanted to own," Miller said. "Then I just thought, I would really like to become an instructor."
Now, at least once a month, Miller and Crystal Mann, the instructor who taught him how to conceal carry, co-host classes as part of the Concealed Carry Alamance organization.
"There are a lot of stereotypes that go along with gun owners, especially from the South, but like any stereotype it's not true," Mann said. "And say what you will about the South, but no one retires and goes to the North."
The approximately eight-hour class costs $80 in North Carolina. It covers state laws, federal legislation, basic firearm safety measures and includes a live fire exercise and a final quiz. Classes usually end with the notarization of participants' concealed carry permits.
Like every other county in the state, Alamance has shown a consistent increase of citizens with concealed carry permits — with 9,878 active permits as of Oct. 1, 2019, compared to 2,080 in 2009.
Miller's monthly classes, which he says keep growing, average 15 to 20 students from "all walks of life."
"In terms of demographics it's everybody," Miller said. "Male, female, old, young, gay, straight, everybody wants to conceal ... all races, everybody and I'm just happy to help."